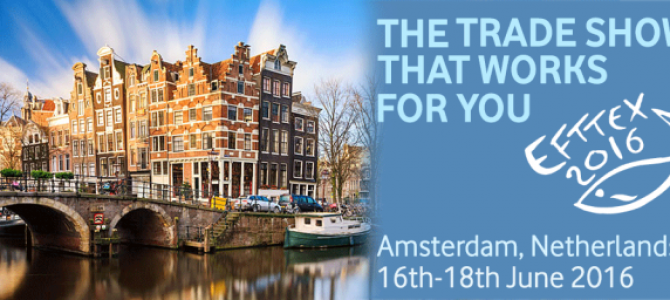 EFTTEX 2016., Amsterdam – part 2
EFTTA's Annual General Assembly
The 34th EFTTA Annual General Assembly was held on Friday the 17th June,the second day at EFTTEX. Breakfast was served from 8.30 and the AGA started at 9.00. There was a total of 43 representatives from EFTTA member and non member companies and international Press along with the EFTTA Board of Directors.
Sensas SA Export Manager Bernard Leveque was re-elected for another three years on the Board. Katrin Sȁenger, from Top Tackle System, was officially elected to the EFTTA Board replacing her father, Hans-Jurgen Sȁenger, who stepped down after 6 years serving on the Board. To cover Shimano Europe's position on the Board, the Managing Director Cor Ax was officially elected to replace the former EFTTA President Pierangelo Zanetta.
EFTTA Public Affairs Officer Jan Kappel reported on the last year's Lobby situation, progress and improvements.
Mr Kappel presented the purposes and challenges that EFTTA faces each day in Brussels on behalf of the fishing industry.
Ms Cécile Fouquet, Consultant in EU Affairs at AlienorEU, introduced a presentation about what EFTTA and EAA (European Anglers Alliance) have been working on and achieving since 2014. Together, they've created the European Parliament's Aquatic Environment and Recreational Fisheries Forum and they've organised four events in the European Parliament: 'The RecFishing Forum' (25th March 2015) 'The sea bass event' (14th April 2015); 'The hydropower event' (14th November 2015) and 'The Danube salmon under threat' (19th April 2016). The Forum helped creating a network of supportive MEPs they are now working with in Brussels. EFTTA member company Zemex won one year's EFTTA full membership (825 euros worth). By attending the AGA all EFTTA member companies are automatically entered into the free membership competition.
Congratulations!
EFTTEX 2016 Charity
The EFTTEX Official Charity is a very important part of the show. It's been twelve years since companies from the industry started supporting. EFTTA members and exhibitors contribute every year and help the less fortunate to enrich their fishing experience.
EFTTEX 2016 Official Charity was PeuterFonds Foundation. The Charity was set up in November 2008 by three fishermen who decided to do something good for the society. Everyone liked the idea and in less than a month there were over 30 volunteers and 15 sponsors supporting them. PeuterFonds Foundation has currently more than 150 volunteers in Holland and 50 sponsors.
Since the charity was founded, over 750 children with health issues and/or disabilities have enjoyed a day
out on the waterfront angling. The care that PeuterFonds offers can guarantee safety and lots of attention for these kids. There are 5 to 6 events per year between April and October for groups up to 20 kids at a time. PeuterFonds Foundation was the EFTTEX charity back in 2011. The tackle that was donated by EFTTEX exhibitors was very useful in the events organised and given as prizes for the Wheel of Fortune.
Everyone can donate during EFTTEX in the blue bins provided.
We would like to thank again the 53 companies who donated tackle during EFTTEX 2016 in Amsterdam:
Acme United, American Tackle, Behr Angelsport, Bhagwati Ltd, Carpzoom/Fish KFT, Carrot Stix, Cormoran, Costa del Mar, D.A.F. al srl, Deepsons, Dutch Tackle Company BV, Dynamite Baits, Egerfish, Energofish, Eumer Finland, Eyelevel sunglasses, Galaxy Tackle, Haesung Enterprise, Hopkins & Holloway UK Ltd, K&K Ltd, Kvalvik, Livetarget, Lynx, Mann's Bait, Matzuo Apex, Momoi Fishing, NINGBO SEASIDE FISHING TACKLE CO.,LTD, Orient Fishing, Pacific Eagle, Pradco, Preston Innovations, Pure Fishing, Rapala France, Rapala
VMC Corp, Redington, Ribosport MM O.D., RIO Products, Rudi Heger/Traun River, Sage Fly fishing, Sensas SA, Snowbee, Stormsure, Traper Sp. J. J. Smorczewski, M. Machala, TUF Line, Viki Exports PVT, VMC Peche, Wake Fishing, Waku Gmbh, Wielco BV, WileyX, Xinghua Top-One Fishing Tackle Co, Ltd, Zebco and Zenergo.
Gala Evening
The Gala Evening and the Best New Product Awards ceremony were another success. Almost 400 people enjoyed the buffet, drinks and presentation of the winners and the runners up. There was also the Euro 2016 football game on the television screens and a very busy dance floor!
EFTTA President Robin Morley from Daiwa Sports gave a speech encouraging EFTTA members to keep supporting the industry. Gerard Bakkenes from Shimano Europe collected a commemorative
award on behalf of the former EFTTA President Pierangelo Zanetta. Representatives of PeuterFonds Foundation received a plaque and they thanked eveyone at EFTTEX for their support after explaining what they do as a charity.
The Best New Product awards ceremony was presented by EFTTEX Manager Victoria Seymour, EFTTA General Manager Janet Doyle and EFTTA CEO Jean-Claude Bel. The winners were presented with specially commissioned awards and a fish pillow sponsored by company Gaby (www.gaby.com.pl). They also received editorial in Angling International magazine and were sent bespoke EFTTEX Best New Product Award electronic logos to be used in their marketing material. Companies with runner up products were also sent electronic badge logos for marketing purposes.
EFTTEX 2016 welcomed 18 international press members to judge the products in the Best New Product showcase. Thank you very much!