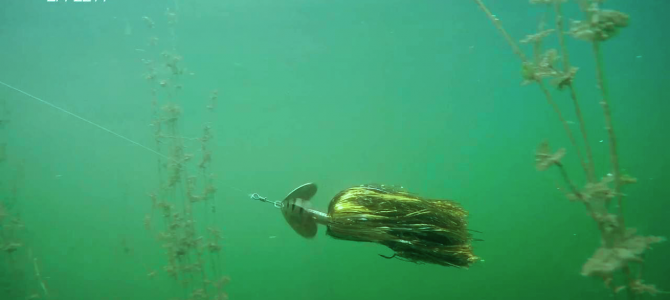 Best New Products – EFTTEX 2016.- Metal lure
Metal lure category offered a lot of products, with DAM EFFZETT taking the first place, and Fiiish with their PowerTail lure 2nd.
EFFZETT® Pike Rattlin' Spinner, winner in the metal lure category
The EFFZETT Pike Rattlin' Spinner is the ultimate spinner for catching big pike at the moment. The reason for this is that this awarded metal lure emits 3 different attractions simultaneously. With 7 available patterns, all of which consist of mixed coloured reflective material, the visual element of attraction is enormous. But it's not just the visual that makes this spinner so effective… The twin Colorado blades transmit irresistible pressure waves throughout the various depths for even greater attraction. But what really makes it so different is the unique body design which features a number of steel ball-bearings that generate a rattling sound; what makes the difference between a good day and an awesome day!
Attracts attention in 3 ways:

body with integrated rattle for sound attraction
2 Colorado blades, in size 6 and 7, create pressure waves
Tinsel flash material for visual attraction

Super sharp FZ treble
PowerTail by Fiiish
2nd place went to the patented PowerTail concept by Fiiish, which achieves unique swimming by this new body / tail-fin combination. 100% dynamic and constantly moving, the tail oscillates the body and slows down its descent. In water it becomes invisible and gives this metal lure a realistic swim that emits strong vibrations. The lure swims both on the descent and in traction. Never has a leaden lure been so alive!
Coming in 3 sizes (30/38/44mm) and 3 densities (resin, zinc and lead) it gives a total of 9 differently weighed metal lures for any need. Action labels SLOW (resin), FAST (zinc) and X-FAST (lead) refer to the rate at which the lure must be pulled for the swim to be effective. For example, lead will require the fastest recovery rate, as opposed to zinc or resin, to avoid sinking too quickly. Available in 3 colour variants: Natural Trout, Silver Glitter and Natural Minnow.
High density metal lure
Body/Paddle combination for 100% dynamic swim
Paddle gives the lure a very slow sink rate
Truly realistic movement produces maximum vibration
3 densities – Slow Action (resin), Fast Action (zinc) & X-Fast Action (lead)